Proud to Serve New York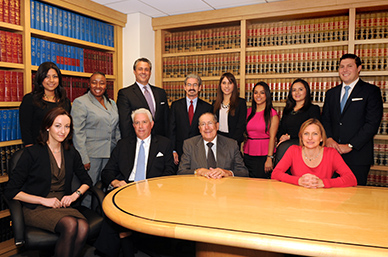 Friedman, Levy, Goldfarb, Green & Bagley, P.C. is a New York City based law firm specializing in the areas of plaintiffs personal injury and medical malpractice law. The firm has achieved a reputation as distinguished litigators in the fields of personal injury and medical malpractice.
Friedman, Levy, Goldfarb, Green & Bagley, P.C. The firm was founded over 50 years ago by Sidney Friedman to serve the needs of clients in his New York neighborhood. Sidney was joined some years later by his son Richard. In 1968, Robert Levy joined the firm and under his and Richard's direction, this small family practice evolved into a dynamic litigation law firm. During this time the firm established a reputation as a plaintiffs-rights law firm of note. In 1989, Ira Goldfarb, a former Special Assistant Attorney General for the State of New York and successful trial lawyer joined the firm as a partner.
We pride ourselves on our stability — our attorneys have served the firm collectively for over 80 years. We take pride in our expertise as well. Our highly talented, diverse and congenial staff brings a wealth of experience to the successful prosecution of plaintiffs' cases. Our attorneys are all seasoned trial lawyers, and, in addition, many have training and experience uniquely suited to the personal injury and medical malpractice arena.
Because of our reputation for successfully handling difficult cases, work is often referred to us by other lawyers. As a rule however, the majority of our new cases come to us through the recommendation of former clients. Many former clients, in fact, stay in touch with the firm, and think of Friedman, Levy, Goldfarb, Green & Bagley as "their lawyers" years after their original cases have been resolved. We do not advertise and do not "chase" cases. We rely on our reputation and our proven record of success to attract business. We believe a personal reference from a satisfied client is the best advertising possible. We offer a free consultation to anyone who has been injured in an accident or has been a victim of medical negligence.
Although active in a full range of accident and medical malpractice litigation, we also handle many of our clients' other legal needs.