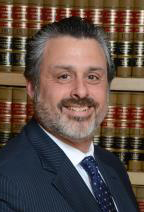 Charles E. Green is the managing partner at Friedman, Levy, Goldfarb, Green & Bagley, P.C. Mr. Green has amassed a great deal of experience handling a wide array of personal injury cases including wrongful death, construction accidents, product liability, dental malpractice, premises liability, automobile accidents and municipal liability. Mr. Green is responsible for overseeing and coordinating the work of the firm's team of attorneys and paralegals, and ensuring that every case is aggressively pursued and skillfully negotiated.
Mr. Green's cases have been reported in the New York Law Journal and Official New York State Court reports and have resulted in legal decisions that have made new law. His cases have also been featured in the New York Daily News and Journal News, and many of Mr. Green's jury verdicts, including one in a dental malpractice case where his client was awarded $1,450,000, and another involving a ceiling collapse in an apartment where his client was awarded $872,500, were reported in the New York State Jury Verdict Reporter.
Charles Green has developed a reputation with his clients, insurance carriers and opposing attorneys as a skilled negotiator and a formidable trial lawyer who can quickly adapt to the ever changing situation in a courtroom. At mediation and arbitration, Mr. Green successfully recovers millions of dollars annually for our clients, with more than $10,000,000 in just this past year alone, for construction accidents, car accidents, and premises liability cases. Mr. Green believes that only through careful attention to detail and thorough preparation can a case be successfully resolved. He also knows how important an injured person's case is to them, so Mr. Green handles every client's case, from the first meeting with the client up to settlement or rendering of a verdict, as if it is the only case he is handling. Our firm's clients, Mr. Green believes, deserve nothing less.
Mr. Green graduated cum laude from the State University of New York at Albany in 1987 and went on to earn his Juris Doctor degree from the National Law Center at George Washington University in 1990. He was an associate at Friedman, Levy, Goldfarb, Green & Bagley, P.C. from 1990 to 1994 and a partner at Charles E. Green, P.C. and later Cinquemani & Green LLP until 2009.
Mr. Green is admitted to the Bars of the States of New York and New Jersey, the United States District Courts for the Southern and Eastern Districts of New York. He is a member of the New York State Trial Lawyers Association and the American Bar Association.