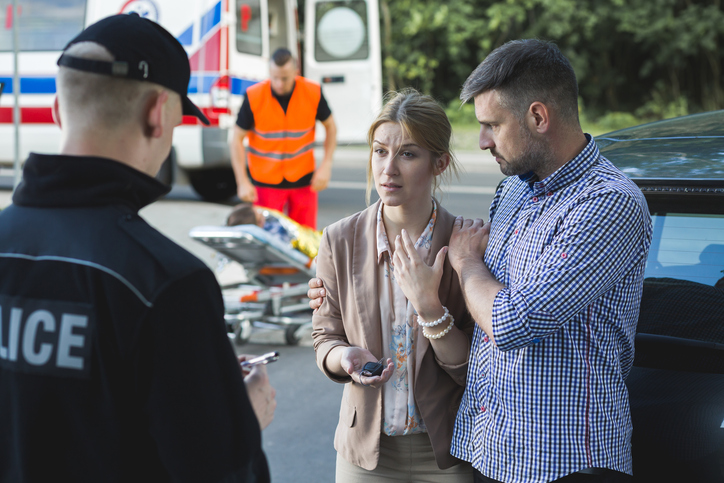 Motor vehicle accidents and fatalities in the Bronx continue to rise. According to recent statistics, nearly 20 percent of all car accidents happen in this borough. If you've been hurt in an auto accident caused by another party's negligence, you need a legal advocate in your corner. At Friedman, Levy, Goldfarb & Green, we have a proven record of high-dollar judgments and settlements for injured clients.
Why should you hire a Bronx car accident lawyer at our firm? We leverage 50 years of combined legal expertise, which translates to better service and outcomes for our clients. Our attorneys work tirelessly to ensure clients get the justice they deserve after a serious accident. With a skilled negotiator and trial lawyer on your side, you'll never have to consider a low-ball settlement.
We are proud to offer results-driven representation on a contingency basis, meaning there are no attorney fees unless a recovery is made on your behalf. Get the money damages you need to recover by partnering with a Bronx accident attorney– dedicated to your success. Contact us if you have any questions or would like to schedule a free, no-obligation case review.
Evidence Needed for a Bronx Car Accident Claim
New York's No-Fault insurance has its benefits but can be inadequate when car accidents result in catastrophic injuries. When this happens, victims may pursue a lawsuit against negligent parties. Our car accident lawyers have the experience and skill to secure every last dollar of available insurance for clients.
A Bronx accident lawyer builds a solid case for damages by gathering the following types of evidence:
Police accident report
Eyewitness testimony
Cell phone records
Surveillance footage
Photos from the accident scene
Testimony from accident reconstruction specialists
Hospital and medical bills
Catastrophic Personal Injuries in Car Accidents
Victims of motor vehicle accidents can sustain injuries ranging from deep lacerations and organ damage to broken bones and loss of limb. To advance your claim, make sure to keep track of all medical records and costs related to your injuries and follow your doctor's treatment recommendations.
Pursue the compensation you rightfully deserve by working with a reputable Bronx personal injury lawyer at Friedman, Levy, Goldfarb & Green. We will negotiate with the insurance company so you can focus on your recovery. 
We have successfully represented car accident claims resulting in life-altering injuries such as:
Bone fractures
Spinal cord injury
Paralysis
Whiplash and neck injuries
Cracked vertebrae and herniated discs
Concussions and more serious brain injuries
Traumatic injury leading to amputation
Scarring and permanent disfigurement
Burns
Vision impairment
Wrongful Death
Common Reasons for Auto Accidents
Collisions involving passenger vehicles are usually the result of negligence or careless behavior.
Some of the most common causes of accidents in the Bronx include: 
Speed limit violations
Driving under the influence of drugs or alcohol
Distracted driving
Illegal U-turns
Failure to yield the right-of-way
Unsecured loads on trucks
Drowsy driving
Failure to obey traffic lights or stop signs
Looking left while turning right
Road hazards
Tail-gaiting
Inclement weather
Defective auto parts
Sometimes, car accidents are caused by roadway hazards beyond your control. Giant potholes, improper lane markings, and construction debris can make any roadway perilous. We understand the emotional and economic tolls placed on car accident victims and treat our clients with the utmost respect and compassion as we work toward a favorable outcome.
New York's Serious Injury Threshold
To seek compensation outside of New York's No-Fault insurance system, you must meet the state's Serious Injury Threshold.
A viable personal injury action can arise if the following injuries have been sustained:
Dismemberment
Significant disfigurement
Bone fracture
Loss of a fetus
Permanent loss of use of a body organ, member, function, or system
Permanent consequential limitation of use of a body organ or member
Significant limitation of use of a body system or function
A "medically determined injury or impairment of a non-permanent nature which prevents the injured person from performing substantially all of the material acts which constitute such person's usual and customary daily activities for not less than 90 days during the 180 days immediately following the occurrence of the injury or impairment."
Death
Our accident attorneys will identify every potential source of recovery and are prepared to litigate your case in court if it cannot be settled to your satisfaction. There is a three-year time frame to file a car accident lawsuit in New York. However, if the defendant is a state, federal, or municipal entity, this deadline may be as short as 90 days. It's best to consult with a car accident attorney about applicable statutes of limitation for your injury claim.
Consult with an Experienced Bronx Accident Attorney
We are a trusted law firm in the Bronx. Our attorneys and support staff can assist you 24/7 and provide the personal attention you deserve. Hiring a capable legal advocate early on in the process can increase the odds of a successful legal recovery. This can include money damages for pain and suffering, property damages, medical bills, mental anguish, and future loss of earnings.
Residents of Riverdale, Fieldston, Kingsbridge, Wakefield, Williamsbridge, Woodlawn, Co-op City, Pelham Bay, and the greater Bronx area are encouraged to call for a free case evaluation.