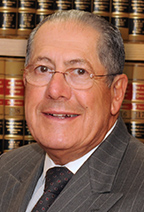 Robert Levy is the senior partner of Friedman, Levy, Goldfarb, Green & Bagley, P.C. Mr. Levy joined the firm in 1968 and became a partner in 1971. His extensive experience over four decades includes representing clients who have been seriously injured in almost every type of accident imaginable including accidents involving motor vehicles, construction sites, assaults, unlawful arrests, animal attacks, sidewalk defects, municipal liability, commercial and residential premises, medical malpractice, dental malpractice, lead poisoning, and products liability. Mr. Levy has been involved in thousands of successful cases and has personally obtained hundreds of favorable jury verdicts for his clients. Mr. Levy has tried cases to verdict in almost every court in New York City, Long Island and Westchester and has won many precedent setting cases for his clients, including million dollar and multi-million dollar recoveries.
Mr. Levy is considered an expert in the field of personal injury accident cases and is often called upon by his peers to testify in court on behalf injured persons whose suffering was compounded by acts of legal malpractice committed by lesser experienced attorneys.
Mr. Levy possesses a background in medicine having attended medical school classes before dedicating himself to the practice of law. Mr. Levy is the author of Anterior Tibial Compartment Syndrome, and has served as a member of the Practicing Law Institute Trial Advocacy faculty. His medical background enables him to better understand and appreciate the extent and severity of the impact that even seemingly minor injuries have on the lives of accident victims.
Mr. Levy is the driving force behind the firm's dedication to providing all of our clients with the personalized and detailed service, care, and attention an injured person deserves. Mr. Levy believes in individualized representation that involves more than just knowing the law and the facts of a particular case. He strives to build relationships with clients that will allow him to satisfy his clients short-term goals and long-term needs.
Mr. Levy takes a hands-on approach in the day to day operations of the firm and he supervises the progress of each case to ensure that the law firm is doing everything possible to maximize the potential recovery for his clients.
Robert Levy received his BA degree from Hofstra University in 1962, thereafter he attended St. John's University School of Law and received his J.D. degree in 1965. He then entered the U.S. Army as a Captain in the Judge Advocate Corps and was the Acting Judge Advocate at the Walter Reed Army Medical Center where he remained until 1968.
Mr. Levy is admitted to the Bar of the State of New York, the United States District Courts for the Southern and Eastern Districts of New York, the U.S. Court of Military Appeals and the U. S. Tax Court.
He is a member of the New York State Bar Association; the Bronx County Bar Association; the New York State Trial Lawyers Association; and the Association of Trial Lawyers of America.