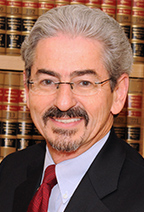 Sam Rosmarin joined Friedman, Levy, Goldfarb, Green & Bagley, P.C. in an of counsel capacity in 2005. He graduated from Cornell University in 1977 with a B.S. in Industrial and Labor Relations. He received his J.D. from the Boston University School of Law in 1980.
He is admitted to the Bar of the State of New York, the United States District Courts for the Southern and Eastern Districts of New York, the United States Court of Appeals for the Ninth Circuit and the United States Court of Federal Claims.
Mr. Rosmarin spent 15 years representing Columbia Presbyterian Medical Center (now New York Presbyterian). For the past 15 years, he has exclusively handled cases involving catastrophic medical malpractice injuries on behalf of victims or their families. His experience on both sides of this highly specialized area of law and the excellent relationships he developed with medical malpractice defense attorneys and their insurance companies over the past 30 years in this field has enabled him to achieve approximately 30 settlements in the past 10 years alone ranging from 1 million to 8 million dollars.
Mr. Rosmarin was described by a juror in one of his trials, who wrote a magazine article about that trial, as follows: "[W]e know, when it's his turn, that he'll be brief, that he'll go in and extract the exact testimony he needs with the precision of a surgeon."
$20,000,000 VERDICT
As reported in a recent New York Law Journal Verdict Supplement, Mr. Rosmarin obtained the highest medical malpractice verdict in New York in 2010 on a Friedman, Levy, Goldfarb, Green & Bagley, P.C. case. The case involved a 42 year old man who underwent a colonoscopy at a Bronx Hospital. During the procedure, the doctor caused several small perforations and then ignored our client's complaints of pain and sent him home. This delay in diagnosis allowed his condition to worsen and led to the need for emergency surgery. Our client required removal of a portion of his colon and the creation of a colostomy. He also endured subsequent surgeries to reverse his colostomy and to repair abdominal hernias that developed due to his multiple operations.
The case was tried because the defendant doctor refused to consent to settle the case.
$6,000,000 SETTLEMENT
Errors by several doctors in diagnosis and treatment led to a long period of suffering and ultimately the death of the cherished husband of our client. This 49 year old man, who was also the father of two young daughters, had a known history of asymptomatic heart valve disease when he presented to the defendant doctors over a period of two months with complaints of pain and high fever. With the help of experts we retained in Internal Medicine, Cardiology, Pulmonary Medicine and Infectious Disease, our office was able to prove that a mistaken diagnosis was made by the first doctor he saw and then followed by his other doctors. We established that as a result of these doctors' negligence, he developed a severe heart infection with numerous horrific complications. Our ability to prove that his death from a pulmonary embolus nine months later was caused by the doctors' earlier mistakes led to a very substantial settlement that will provide his family with the resources to completely fund his daughters' educations and otherwise dramatically improve the quality of their lives in his absence.
$2,700,000 SETTLEMENT
Joy turned quickly to crushing loss for our client after his 29 year old wife delivered their second child. Bleeding that was noted during her caesarean section was not adequately controlled and lab tests showing continued blood loss were ignored until she developed severe anemia and suffered a heart attack. By immediately arranging, at our expense, for a pathologist to perform an independent autopsy and by quickly consulting our obstetrics expert, we were able to establish that transfusions and a reoperation should have occurred hours earlier and would have prevented her death from cardiac arrest. With the information obtained from our independent autopsy and our OB/GYN expert, we were able to convince the doctors' attorney to agree to settle this case in the extraordinarily short time of less than one year after her tragic death for an amount that will allow our client to realize his dream of starting his own business and to care for his children and provide for their education in private primary schools and college.