When a large, heavy commercial truck collides with a passenger vehicle, the likelihood of serious injury and death increases exponentially. According to NYPD's crash data reports, 100 to 200 accidents involving vehicles with six or more wheels occur monthly in Brooklyn, Bed-Stuy, Sunset Park, or Borough Park. Due to heavy traffic volume on Brooklyn streets, these collisions often involve multiple victims and more than two vehicles.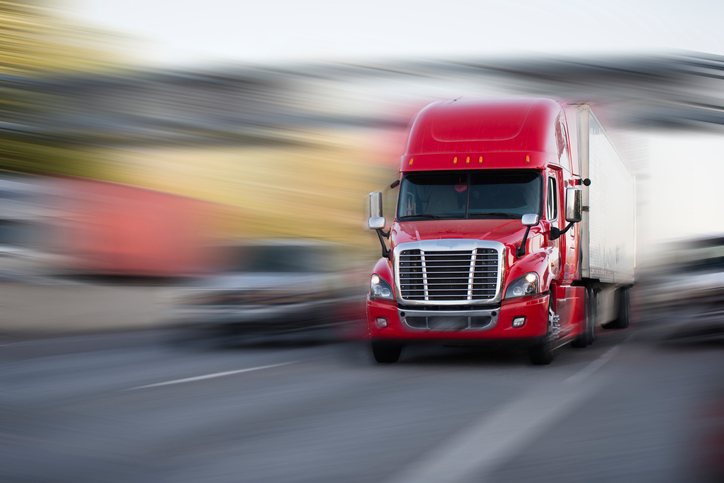 Friedman, Levy, Goldfarb & Green is here to help if you've been injured by a semi-truck, big rig, tractor-trailer, or commercial freight hauler. When negligence is a factor, the truck driver, trucking firm, cargo loaders, or another third party may be responsible for covering your medical expenses, lost wages, pain, and suffering. Call or email to schedule your free consultation with a truck accident lawyer in Brooklyn. We only assess attorney fees if we take your case and win, so you have everything to gain by investigating your legal rights.
Injured in a truck accident? Tap to call for a FREE consultation!
Where Do Truck Accidents Happen in Brooklyn?
While a truck accident can happen anywhere, at any time, this is a partial list of areas that have seen multiple crashes:
8th Avenue and Union Street
18th Avenue and 86th Street
19th Street and 5th Avenue
39th Street and 4th Avenue
57th Street and 8th Avenue
Apollo Street and Meeker Avenue
Atlantic Avenue and Rockaway Avenue
Atlantic Avenue and Logan Street
Atlantic Avenue and Utica Avenue
Arlington Avenue and Shepherd Avenue
Avenue D and Remsen Avenue
Bay Parkway and Cropsey Avenue
Walworth Street and Willoughby Avenue
Williamsburg Street and Wythe Avenue
Large industrial park distribution centers become hotspots for truck accidents, prompting citizens to call for traffic impact studies. For example, third Avenue in Sunset Park saw six people killed in 2019, but nothing has been done to improve safety in the area. In fact, another four-story transportation hub has been planned for the area to dispatch merchandise for same-day delivery. This is likely to make matters worse. In some cases, flawed urban planning and government inaction can make the city liable for injuries.
Factors in Brooklyn Truck Accidents
True accidents where no one is at-fault rarely occur. Most truck accidents involve one or more of the following:
Driver inattention/distraction
Improper turn
Braking unsafely
Improper passing
Following too closely
Who is Liable for Causing Truck Accidents?
The truck driver seems like the most obvious culprit, but an experienced Brooklyn truck accident lawyer recognizes liability from every possible angle.
Trucking companies (and their commercial insurers) can be liable for failure to train, poor oversight, setting unrealistic or illegal expectations for driver performance, and failing to maintain the fleet for safety.
Cargo loaders who overstuff trucks, causing them to jack-knife or tip over, can be included in a lawsuit.
In some cases, truck and parts manufacturers or maintenance personnel can be involved.
Civil defendants are rare but can be implicated when city roadwork creates a hazardous condition, when known obstacles to visibility are not cleared, or when multiple crashes occur in the same location, and no action is taken to enhance safety.
What Truck Accident Injuries Do Brooklyn Residents Sue For?
Though New York State has a no-fault insurance system, you can step outside it to file a personal injury lawsuit if you are likely to reach the "serious injury threshold" of $50,000 or greater in losses. Most broken bones, disfigurements, dismemberments, disabilities, loss of a fetus, and other deaths fall under this category. New York law says if you cannot perform your usual and customary daily activities for 90 out of 180 days immediately following the accident, you may qualify for compensation beyond the scope of the no-fault system. 
Talk with an experienced truck accident attorney for free!
What Damages Can a Brooklyn Truck Accident Attorney Help Secure?
Trucking companies typically hire counsel to protect their drivers, so it's recommended that you contact a personal injury attorney in Brooklyn to represent your claim for compensation. At Friedman, Levy, Goldfarb & Green, we will pursue the maximum damages allowed by law, including:
All related past and future medical expenses
Lost wages and loss of earning capacity
An estimated amount for pain and suffering
Punitive damages, where applicable
Death benefits for funeral and burial expenses, where applicable
No Fault coverage may help pay for medical expenses or lost wages, but they do not include factors like pain and suffering, which significantly increase the total. Keeping a record of all medical appointments, as well as a daily or weekly pain journal detailing feelings and what activities are challenging, can serve as valuable evidence. Given the severity of truck accident injuries, it is not uncommon to see totals in the hundreds of thousands or millions of dollars.
What Can a Brooklyn Truck Accident Attorney Do?
A Brooklyn truck accident attorney does much more than file paperwork. Lawyers serve as personal representatives, handling all correspondence between parties. They pay upfront court filing fees, pull together their own resources to investigate what happened, and secure expert witnesses who testify to the nature of your injuries and your freedom from liability.
Even when a plaintiff is partly to blame for causing the accident, New York State allows this person to recover compensation based on the other party's assumed liability. Attorneys can also point their clients in the right direction for locating the best local surgeons, specialists, and therapists for their injuries.
Contact Us for a Free Consultation
When you've been hurt badly, you need compassion and a knowledgeable legal expert who can help you recover the money you need to rebuild your life. Contact Friedman, Levy, Goldfarb & Green for assistance in Brooklyn. For more than 50 years, we have proudly served all five boroughs of New York, so do not hesitate to call for your free consultation.