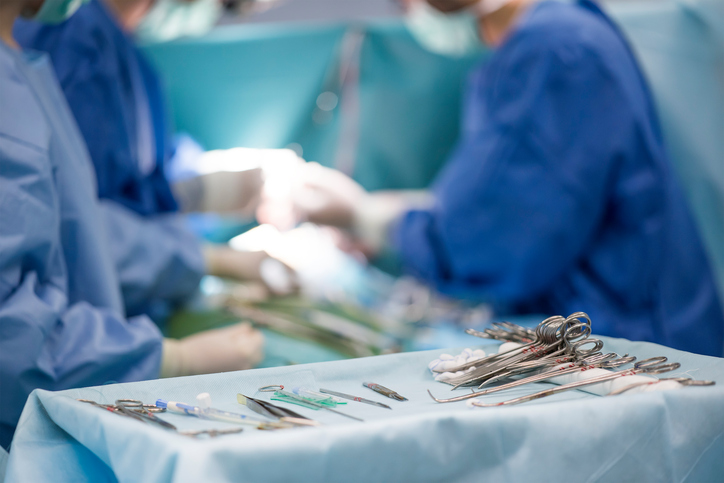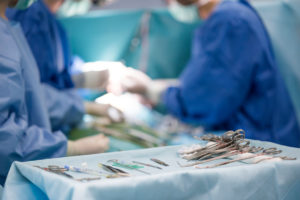 It is not unusual for accidents to occur when undergoing medical treatment. However, when an injury results from medical treatment that deviates from accepted standards of practice, a medical malpractice lawsuit may be the only way for the patient to recover damages. If you have suffered serious injury at the hands of negligent doctors, hospitals and other medical professionals, you may be entitled to considerable compensation for your pain and suffering, as well as future and past lost wages and medical bills. In cases of wanton and reckless conduct, punitive damages can also be attained for the victim.
Have You Been Injured? Click to call for a FREE consultation!
Medical malpractice cases typically require a significant amount of research and careful presentation to be successfully litigated. This is because a favorable outcome requires proof that there was a failure to provide a level of care that is commensurate with accepted standards and that such failure was the cause of the injury.
The NYC medical malpractice lawyers at Friedman, Levy, Goldfarb & Green are available to handle virtually any type of case involving medical negligence, including those that result in major injuries or wrongful death.
What Is Medical Malpractice?
Medical malpractice can occur as a result of:
Misdiagnosis of cancer
Misdiagnosis of cardiac conditions
Prescribing experimental drugs
Performing cosmetic surgery
Birth injuries or death resulting from delayed C-section procedure, failure to monitor the fetus, or improper delivery technique
Emergency room errors
Gastroenterology errors
Medical device injuries
Negligence on the part of a hospital, surgeon, nurse, obstetrician/gynecologist (OB/GYN), or any other doctor or health care worker who fails to follow accepted standards of practice
Post-surgical infection
Nursing home neglect
Lack of informed consent
In addition, medical malpractice can also result from caregiver negligence, improper hiring, poor training and managerial incompetence.
Damages for Medical Negligence
The consequences of medical malpractice are often tragic, and they readily justify the substantial damages that are common in medical malpractice lawsuits. For example:
Misdiagnosis of a Cardiac Problem
Physicians that failed to detect an asymptomatic heart valve disease in a 49-year old man, notwithstanding his more than two months of pain and fevers, settled a medical malpractice case based on that misdiagnosis for $6 million.
C-Section Mistakes Lead to a Mother's Death
A physician who failed to stop a woman's excessive blood loss after performing a Caesarean Section settled a medical malpractice case for $2.7 million less than one year after she died.
Birth Injury
Negligence on the part of medical staff in the delivery room can lead to devastating injuries to newborns, including cerebral palsy, Erb's palsy, shoulder dystocia, Brachial Plexus palsy, spinal cord injuries, brain damage and more.
Surgical Errors
A 42-year year old man suffered multiple complications and was forced to endure several surgeries after a physician perforated his colon during a colonoscopy. The physician ignored the patient's complaints about pain, and later declined to settle the case before trial. The jury awarded the patient $20 million in damages.
Surgical errors can occur during any kind of procedure, including plastic surgery.
Emergency Room Errors and Other Hospital Negligence
Emergency room staff neglected to give oxygen to a 40-year old patient suffering from schizophrenia. The lack of oxygen led to brain damage. The hospital settled the ensuing medical malpractice lawsuit for $3.3 million.
RSD / CRPS
A patient might experience Reflex Sympathetic Dystrophy or Complex Regional Pain Syndrome (RSD/CRPS) as a result of a physician's negligence during a surgical procedure, which then leads to pain that is disproportionate to the procedure. RSD/CRPS often causes significant quality-of-life issues for patients who are relegated to coping with severe pain in their daily activities.
These are representative examples only and are not guarantees of the damages that you might be able to recover if you suffer injuries as a result of a physician's mistake.
Talk with an experienced personal injury attorney for a free consultation!
Applicable Standards of Care and Procedure in New York Medical Malpractice Cases
Liability in negligence cases is generally a function of four elements: duty, breach of that duty, causation, and damage. In a medical negligence case, a caregiver's duty is readily established by evidence of a physician-patient relationship. The skill and experience of a medical malpractice lawyer will go a long way toward establishing the other elements.
Your lawyer first needs to explain the applicable duty of care, which is defined as the level of care that other medical professionals would have exercised under similar circumstances.
Your lawyer then needs to show that the physician's failure to meet that duty of care was the actual cause of your injuries.
Finally, your lawyer will demonstrate the economic losses that are caused by your injuries.
New York has established a 30-month deadline for filing a medical malpractice lawsuit under its statute of limitations laws, with certain exceptions relating to when an injury is discovered. New York also requires plaintiffs to file a "certificate of merit" within 90 days after starting a NY medical malpractice lawsuit. In that certificate, the attorney must verify that he or she has reviewed the case with an independent physician and that the injured party has a reasonable basis for filing the lawsuit.
Call an Experienced NYC Medical Malpractice Lawyer Today
Because medical malpractice claims can be complex and difficult to prove, our NYC malpractice lawyers utilize advanced tools including computer simulations and real life anatomical illustrations to explain complicated medical issues to a jury. We also work closely with qualified medical experts to assist with litigation, both in and out of court.
Our firm has helped medical malpractice accident victims in Manhattan, the Bronx, Brooklyn and throughout New York City and Long Island obtain financial compensation for their injuries. If you or someone you love has suffered a serious injury as the result of the negligence of a doctor, hospital, nurse or other medical professional or facility, call our offices today for a free, no-obligation consultation.
Additional New York Medical Malpractice Legal Resources:
NYCBar.org: Medical Malpratcice. http://www.nycbar.org/get-legal-help/article/personal-injury-and-accidents/medical-malpractice/
NY Daily News, Cuomo, N.Y. officials reach deal on Lavern's Law, aiding victims of medical malpractice, http://www.nydailynews.com/news/politics/cuomo-n-y-officials-reach-deal-lavern-law-article-1.3784463