Falls can happen any time, anywhere, but falls down a flight of stairs are linked to particularly serious injuries and even death. When a staircase slip and fall accident happens due to a hazardous condition or poor maintenance in New York City, expert personal injury attorneys at Friedman, Levy, Goldfarb & Green can help. Contact us for a free, no-obligation consultation to explore your legal rights.
Tap Here to Call Our Office Now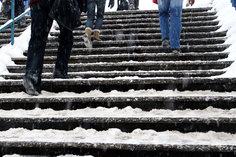 Broken Stairs and Other Causes of Stairway Accidents in NYC
Common causes of stairway accidents include:
Broken stairs or railings – Once a property owner becomes aware of a hazard such as broken stairs or a broken railing, they generally have a reasonable time to fix a critical situation. Failure to do so could result in liability.
Debris and Hazards – Remnants of cut wood, cement, wires, ladders, paint cans, boxes, and many other construction materials are sometimes left on stairs haphazardly.
Poor construction – When property owners DIY their own stairs, they may not always follow proper NYC building codes regarding nosing, slope, riser height, non-slip treads, and landings.
Poor lighting – Stairwells should be well-lit at all times to prevent falls. Changing a light bulb is cheap and easy enough and requires immediate repair. A job requiring the assistance of an electrician should be completed as soon as possible. A property owner may be asked to prove that timely action was taken.
Weather – It is all too easy to slip on ice, snow, or pooled water. While the weather can change in an instant, causing unexpected accumulation, property owners are responsible for shoveling, salting, and taking reasonable precautions to prevent this from occurring.
Liability Issues in Staircase Accidents
Property owners, whether residential or commercial, are responsible for exercising "reasonable care to keep the premises in a reasonably safe condition for the protection of all persons whose presence is reasonably foreseeable." So, naturally, the question arises: What is reasonable?
This is why injured parties often choose to work with an experienced New York City premises liability lawyer. They have the resources to investigate, interview, and bring in expert witnesses to testify on the victim's behalf.
Can Health Insurance Pay for Staircase Accidents?
Health insurance can subsidize some of your medical bills, but you will still be responsible for covering all copays and deductibles out-of-pocket. You must prove liability to be eligible for compensatory damages such as pain and suffering.
Have You Been Injured? Click to call for a FREE consultation!
Won't Worker's Compensation Pay for My Injuries?
If you fell down unfinished stairs at a construction site you were working on, you may receive some benefits from workers' compensation. However, this compensation is often well below the salary a construction worker typically earns. While you may be able to cover some of your medical bills with a workers' compensation claim, you will be unlikely to cover your lost wages from taking time off to recuperate.
Who pays if I fell down a neighbor, friend, or family member's stairs?
Some people are reluctant to pursue claims if the property owner was a friend or family member. However, that is why people carry homeowner's insurance. As a result, the financial compensation will not come from the pocket of your friend but their insurance carrier. In these cases, out-of-court mediation and settlement are likely.
What if I fell on a flight of stairs on a government-owned property?
In a typical NYC staircase fall, the owner is a commercial entity with commercial insurance and a three-year statute of limitations deadline for pursuing a civil claim. However, when you fall on stairs owned by the local or federal government, you may have as little as 90 days from the date of injury or the discovery of harm to pursue your claim. For this reason, contact Friedman, Levy, Goldfarb & Green to discuss your options as soon as possible.
What if it was my fault?
Sometimes people do not look where they're walking and are distracted or intoxicated at the time of their fall. New York allows you the ability to pursue a claim even if you were partially to blame for causing the accident. Your total award or settlement may be reduced based on your degree of liability. Further, if another person's negligence also contributed to the accident, they will also be held responsible based on their degree of liability.
No fee unless we win. Call today for a free no obligation consultation!
Are Your Injuries from Falling Down the Stairs Worth a Lawsuit?
The most common injuries from falling down the stairsinclude broken bones, scrapes, bruises, and lacerations. Minor bumps and cuts typically are not cause for a lawsuit, even if it scared you and was someone else's fault.
For a claim to succeed, there must be some type of tangible loss or injury. In these cases, pain and suffering damages are also allowed to compensate injured parties for mental trauma (anxiety, depression, PTSD), physical pain endured, and the inconvenience of disruption to daily life.
The injuries most commonly litigated include:
Broken bones or damaged joints
Facial trauma, scarring, and disfigurement
Damage to internal organs and internal bleeding
Slipped or cracked back disks and other spine injuries
Concussions, head trauma, and traumatic brain injury
What To Do After Tripping or Slipping Down Stairs in New York City
Seek immediate medical attention if you've fallen down the stairs. Even if the injuries seemed fairly minor, get it on record when, where, and how you were hurt. If possible, speak to the property manager about your situation. Photographs of the stairs and your injuries can be helpful as well. Maintain records from doctor's visits, medical invoices, and out-of-pocket receipts together in one organized folder.
In addition, keeping a pain and physical limitation diary can also be helpful evidence in court when arguing for subjective pain and suffering damages. Contact a slip and fall lawyer as soon as you can to begin the claims process. Premises liability is a complex area of law, and it takes time to prepare a strong case.
Call now for a FREE consultation!
Hurt in a Fall? A Stairway Accident Attorney from Friedman, Levy, Goldfarb & Green Can Help
At Friedman, Levy, Goldfarb, Green & Bagley, we understand the physical and financial hardship involved in the aftermath of an injury. Our goal is to take care of all the paperwork and financial details so that you can focus on your healing.
Contact us for a free, no-obligation consultation to learn what options are available to you. As contingency-based lawyers, we only assess a legal fee if we secure compensation on your behalf. We are proud to serve all of the New York City metro area, from Manhattan and Brooklyn to the Bronx and Long Island.