The New York State Legislature plans to rename a portion of Route 45 after volunteer firefighter Jared Lloyd. He died fighting a fire at an assisted living home in Rockland County in March 2021. This tragedy underscores the importance of upholding integrity in local building inspections to keep citizens and first responders safe.
Jared Lloyd Gave His Life in Service of Others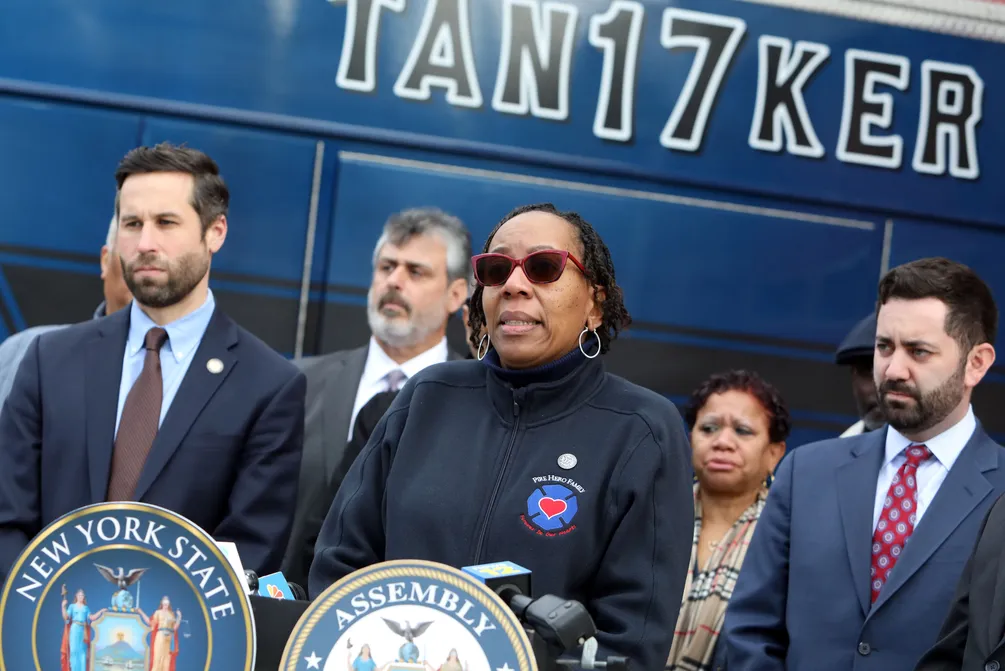 Jared Lloyd, a 35-year-old father of two boys, lost his life in a fire at the Evergreen Court Home for Adults in Spring Valley on March 23, 2021. He had rescued one resident and went back in to save another when the smoke and flames overcame him– prompting a mayday call just before the second floor of the building collapsed. His body was recovered in the rubble 24 hours later. Lloyd had been a member of Columbian Fire Engine Co. No. 1 in Spring Valley for more than 15 years.
One other resident, 77-year-old resident Oliver Huested, also perished in the blaze. Twenty of the 112 residents were taken to area hospitals– some with serious injuries. Twenty-three fire companies responded to put out the fire. Two firefighters were injured, with one treated for smoke inhalation.
Rockland County Executive Ed Day said at a news conference. "Jared Lloyd gave his life in service to others. He searched as the building burned, determined to rescue anyone who may have been trapped; his loss is devastating. There is no other way to put it. But I will tell you this– his loss and his heroism will never be forgotten." His mother, Sabrail Davenport, said, "Jared has been a good son, always loved putting his life before others. He had a passion for service since high school."
Criminal and Civil Lawsuits Filed in the Fire's Aftermath
The building was deemed a total loss. Rockland County Department of Health officials reported that smoke detector and sprinkler reports were found in compliance when last checked in December 2019. Denise Kerr, Director of Evergreen Court Home, issued a statement that the center had been inspected multiple times by local authorities in 2020, with no fire safety citations or violations found.
Three months later however, these reports were called into question when authorities arrested four men— including two village building inspectors, a rabbi, and his son. Rabbi Nathaniel Sommer and his son, Aaron Sommer, are alleged to have started the fire by using torches to burn the ovens out– part of a kosher cleansing of kitchens ritual for Passover. The Sommers are charged with multiple felonies, including manslaughter, assault in the second degree, and arson in the fourth degree, as well as misdemeanors of assault and second-degree reckless endangerment.
In addition, village building inspectors Wayne Ballard and Raymond Canario stand accused of filing false reports with the state. Offering a false instrument for filing is a felony, while second-degree falsifying business records count as a misdemeanor.
Misdemeanor arrest warrants were also issued for Evergreen Court employees Denise Kerr and Manuel Lema of Pomona for their actions before the start of the fire. These actions included shutting off the connection to the county fire communications center before the Passover preparations.
Kerr faces second-degree reckless endangerment. Lema faces second-degree criminal impersonation and second-degree obstructing governmental administration. Investigators are also examining whether a lack of water pressure interfered with the firefighter response effort. Attorneys at Friedman, Levy, Goldfarb & Green are handling numerous civil claims on behalf of the family of the fallen firefighter Jared Lloyd against all those alleged to have caused this preventable tragedy.
New York Legislature Proposes Renaming a Portion of Route 45 After Jared Lloyd
Lawsuits and arrests are a positive step forward in demanding accountability. Though nothing can bring back Jared Lloyd, local officials wanted to recognize the bravery and sacrifice of the local hero. State assembly members Michael Lawyer and Kenneth Zebrowski introduced a bill in the lower chamber to rename a portion of Route 45 after Jared Lloyd, which will be carried through the Senate by Elijah Reichlin-Melnick. It is expected to pass and be signed into law by the governor in early June.
Legislators met with family members outside the Hillcrest Fire Department on Route 45 on February 10. New York State Representative Ken Zebrowski said, "The most important thing we can do is change the culture of noncompliance, and make sure everyone realizes that enforcement– fire code, zoning code– is not just words on a page, but it is the mechanism that keeps our firefighters safe and our citizens safe."
Hurt in a Fire? We Can Help You Seek Justice.
Contact the experienced lawyers at Friedman, Levy, Goldfarb & Green to pursue a premises liability claim. We handle cases from New York City, including Manhattan, Bronx, Brooklyn, and Long Island. Our team has the resources and track record to win. Call now for a free case review.