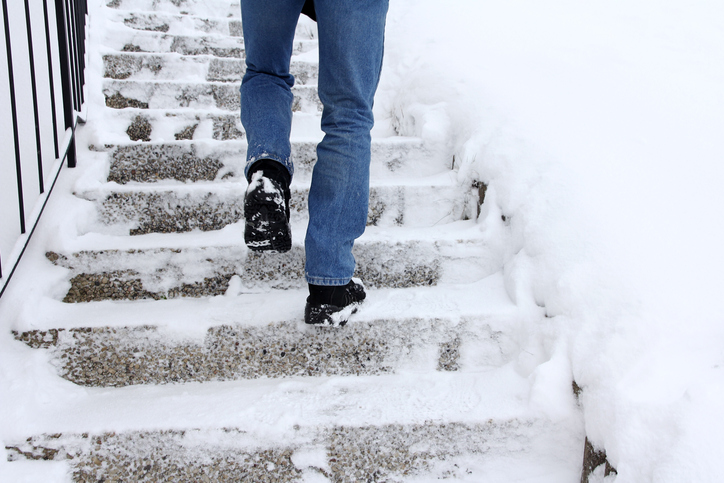 Winters in New York can be unpredictable. The temperatures might turn mild for a little while, before Mother Nature throws a massive snowstorm at the state. Naturally, wintry weather brings unique hazards. In addition to the poor driving conditions, winter can cause difficulties for pedestrians. Take precautions to avoid slipping and falling on the snow and ice. And if you do fall, be advised of the next steps to take to determine if you could recover compensation for your injuries.
Preventing winter weather-related slip and falls
While it's impossible to guarantee your safety, there are a number of things you can do to reduce your risk of slipping and falling on the snow or ice this winter. First, upgrade your footwear. You'll need sturdy snowboots with non-skid soles. Another option is to get a pair of traction cleats, also called ice grips. These are simple, unobtrusive contraptions that you can pull over any pair of shoes to help grip the ground better. You can take them off when you reach your destination.
Keep an eye on the ground in front of you as you walk, and use handrails whenever available. Take small steps and move slowly. Wear gloves to keep your hands warm. Avoid sticking your hands in your pockets, since this affects your center of gravity. If you do feel yourself falling, you might be able to react quickly enough to either pull yourself out of the fall or to control the fall. You can control it by bending your knees and dropping straight downward.
What to do when a fall occurs
Your health and safety are your top priorities. After slipping and falling, your injuries might be severe enough to warrant a call to 911. Even if you think you're only mildly injured, you should seek medical help. Your injuries might be more severe than they initially appear. Plus, your medical records will substantiate a legal claim.
You should also document the scene of the accident. If you have a smartphone with you, take close-up photos of the area and pictures that put the immediate area into context so that its exact location can be determined. If anyone witnessed the accident, you should politely ask for their names and contact information. They may be asked to provide a witness statement later.
Next, report the accident to the property owner or manager as soon as possible. You should have the details of the incident in writing. Ask the manager to provide you with a written report, or to read and sign your own written report.
Where to go for legal help in NYC, New York
For over 50 years, the personal injury lawyers of Friedman, Levy, Goldfarb & Green have been providing vigorous legal representation to the residents of Manhattan, Brooklyn, the Bronx, Queens, Staten Island and Long Island. Call our trilingual staff today at 800-969-5389 any time of the day or night to discuss your situation and request a consultation. We may be able to secure compensation for your injuries without filing a lawsuit. Request your free case review with an experienced NYC slip and fall lawyer today.
Additional resources on winter weather safety:
Michigan.gov, Winter Fall Prevention & Safety Tips, https://www.michigan.gov/documents/mdch/Winter_Fall_Prevention_494521_7.pdf
Iowa State University, Walk Safe this Winter, https://www.ehs.iastate.edu/news/walk-safe-winter