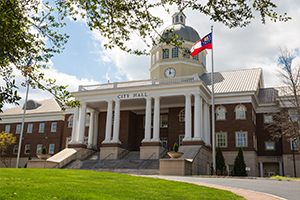 Many individuals mistakenly believe that they cannot sue city hall, but this is not the case. Under the doctrine of sovereign immunity, town, city, county and state governments were once protected from most lawsuits. Today, those rules have been scaled back to some extent, and the government can be held responsible for personal injuries and property damage or unlawful conduct. Let's take a look at personal injury and other lawsuits that can be brought against government entities.
There are a number of ways the government can be held liable for accidents and injuries. For example an individual who is injured in a slip and fall accident at a government office or facility may have grounds for a premises liability lawsuit. Similarly, a motorist or passenger who is injured in an accident with a government owned truck or car, or a motor vehicle being driven by a government employee or contractor while conducting official business, can bring a personal injury lawsuit.
In an addition, an employment lawsuit can be brought by a government employee for harassment, discrimination or wrongful termination against his or her government employer. Finally, law enforcement agencies can be sued for a wide range of civil rights violations. You can also sue a city for harassment.
In short, there are a number of legal claims that can be brought against the government. It is important to note that there are differences between suing the government and suing a private person or business.
For example, the time period to bring a personal injury claim against the government , referred to as the statute of limitations, is typically much shorter. Further, before filing a lawsuit, it is also necessary to provide a Notice of Claim to the government, agency, or employee within a set time period, usually 90 days in New York, notifying them that a lawsuit will be brought.
In the end, it is possible to sue city hall, so to speak, but there are a number of hurdles that need to be crossed. Moreover, some governments may still be immune from certain injury claims, depending on the state in which you live. If you were injured due to the negligent or illegal conduct of a government entity or employee, you should speak to an experienced attorney. If you believe you have a claim against a city, town, school district and government agency, contact the NYC civil rights lawyers at Friedman, Levy, Goldfarb, Green & Bagley, P.C. for a free consultation, and visit our website at friedmanevy.com.