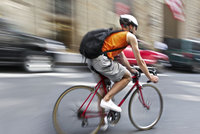 Each year, thousands of Americans take to the roads on bicycles. This mode of transportation is touted as being more cost-effective and more environmentally friendly than motor vehicles but when it comes to safety, cycling can come with a much greater risk. According to the National Highway Traffic Safety Administration, 39,000 individuals were injured in motor vehicle crashes in 2012. That same year, 724 cyclists lost their lives following accidents on the roads.
In addition to the dangers of moving vehicles, cyclists often suffer injury from being "doored"; this occurs when a driver, or passenger, of a stopped vehicle, suddenly opens the door into a cyclist's path of travel. Injury can also occur from street defects, such as large pot holes or uneven manhole covers that can cause the cyclist to lose control. If you've suffered an injury while riding your bike, it's important that you consult a personal injury attorney who has experience representing cyclists. Unlike other accidents, cycling accidents have a number of unique considerations; these include:
Insurance Coverage May Be Different for Cycling Accidents
Many attorneys have litigated car accident cases and may assume that the insurance process works the same way for cycling incidents, but this is rarely the case. In fact, many states have unique rules regarding the minimum coverage and payouts when a cyclist collides with a motor vehicle, even when the driver of the vehicle isn't found to have been negligent.
The Laws of the Road Differ for Cyclists
In determining fault, your attorney must understand the roles and duties of all parties involved. When it comes to cycling accidents, few are intimately familiar with the laws that apply to cyclists but such knowledge is imperative for case success.
The Injuries Are Different
Injuries sustained when riding a bike are vastly different from those sustained when driving, or riding in, a car.An attorney who has represented injured cyclists will likely have a much better idea of how much money will be required for immediate and long-term treatment.
As experienced personal injury attorneys, our firm can help you through the complex litigation process following a cycling injury and help you receive the compensation you need to recover, and get back on that bike as soon as possible.