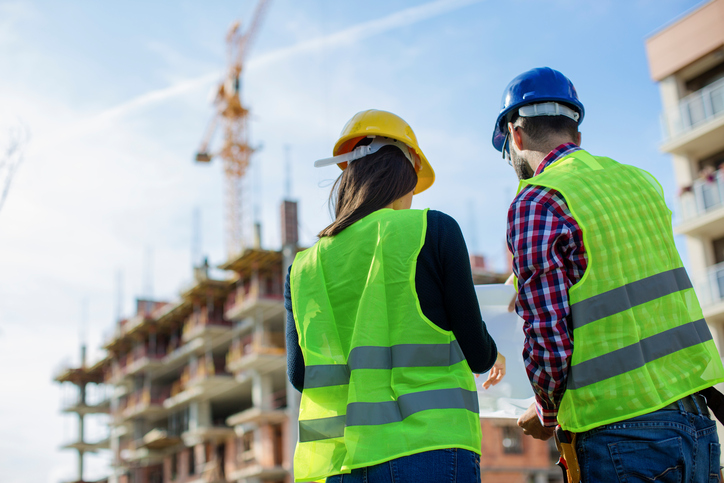 Construction sites are among the most dangerous workplaces in America. Out of the 4,674 worker fatalities in 2017, 20.7% were in the construction industry, according to the Bureau of Labor Statistics. In other words, 1 in 5 deaths were in construction. Falls are the leading cause of fatalities, accounting for more than half, followed by being struck by an object, electrocution, and getting caught in-between or crushed by machinery.
Of course, it's not just death we're worried about; over 24,000 construction injuries were due to falls from a height or falls on the same level.
If you are a construction worker who was hurt on the job, you are likely dealing with financial worries. These can stem from medical bills and missed work. You are also likely dealing with medical issues like physical limitations and ongoing pain. Allow a construction fall attorney from Friedman, Levy, Goldfarb & Green to take a load off your shoulders so that you can focus on your recovery. We will help you determine whether you'd be best served by a workers' compensation claim, a third-party liability lawsuit, or permanent disability filing.
It costs nothing for a case review.
Are Your Workplace Injuries Severe Enough for A Construction Fall Attorney?
You may be injured enough to take some time off work, but are your injuries severe enough to warrant a lawsuit? You could have sufficient grounds for a lawsuit if you have:
Lost a spouse or providing parent suddenly to a workplace accident.
Had to miss more than a couple of weeks due to the injury incurred.
Sustained a "hard injury," such as a broken bone, concussion, or disc injury.
Suffered a range of symptoms related to toxic substance or chemical exposure.
Encountered significant mobility issues that limit your day-to-day activities.
Endured a disfiguring burn, or some other type of scarring injury.
Lost the use of one or more of your senses – particularly eyes, ears, or touch.
The best way to know for sure whether you have a lawsuit is to speak directly with a construction fall attorney.
Construction Worker Fall Injuries from a Height
Construction workers can fall off ladders, scaffolds, girders, stairs, roofs, moving or non-moving vehicles. Workers can also fall down elevator shafts, manholes, or down into ditches. Falls from a height are most likely to result in total body injuries that affect multiple bones, internal organs, and vital systems.
Common construction worker fall injuries include:
Coma
Broken Bones
Mental and Psychological Illness
Soft Tissue Sprains, Strains, Abrasions, and Contusions
The chances of surviving a fall from more than 30 feet are very low, but even a six-foot fall could prove deadly when landing on the wrong type of surface or the wrong body part.
Same-Level Construction Fall Accidents
Construction fall accidents from a height are just the tip of the iceberg with all that can happen on a construction site. Other types of same-level slip, trip, and fall injuries we routinely deal with include:
Falling over a misplaced object
Tripping and falling onto nails
Falls onto hard or jagged surfaces
Falls off machinery
Slips on oily, wet, icy, or snowy surfaces
Trips on sidewalks, rocks, or uneven terrain
Trips over cords, chipped tiles or flipped-up rugs
Falls at changes in elevation
Falls on the same level are less likely to result in death, but commonly result in disabling injury. Broken bones, sprains, soft-tissue strains, and contusions are most common, but more serious harm like traumatic brain injury and spinal cord damage or even paralysis can occur.
What To Do After Sustaining A Construction Fall Injury
Workers' compensation claims can cover the cost of medical bills and lost wages, regardless of who was at fault. However, you must move quickly to secure your benefits. New York law gives you just 30 days to fill out the proper paperwork necessary to report your injury as a workers' compensation claim.
It is important to recognize that 100% of falls are preventable in some way. If another party can be proven at least partially at-fault for your injuries, then you may have grounds for a personal injury lawsuit. This would entitle you to compensation for pain and suffering. You have up to three years from the discovery of harm to file.
Spouses and dependents who have lost a primary care provider to a workplace accident may have grounds for a wrongful death lawsuit. Damages might include the funeral, burial, loss of companionship/support, and unpaid medical bills. Family members have up to two years from the date of death to file a wrongful death lawsuit. Contact a construction accident lawyer at Friedman, Levy, Goldfarb & Green to explore your options in the aftermath of a sudden, severe, or catastrophic construction fall accident.