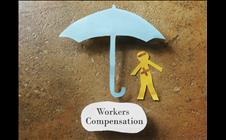 The primary difference between a workers' compensation claim and a personal injury claim is that a personal injury claim is based on fault, while a workers' compensation case is not. Any injury that occurs to an employee at his/her workplace is covered by workers' compensation, regardless of any negligence or lack of it.
Tap Here to Call Our Office Now
In order to recover damages against another person in a vehicular accident or slip and fall, on the other hand, one must be able to prove some type of negligence on the part of the other person. In other words, the other party must be in some way to blame for the accident. Examples in the cases mentioned would be reckless or drunk driving or poor property maintenance resulting in a floor surface that is irregular or slippery.
In Workers' Compensation Cases, Fault-Finding Is Not Necessary
With very few exceptions, employees who are injured on the job are entitled to workers' compensation benefits regardless of fault. Employees need not prove any negligence on the part of their employers in order to file for and receive workers' compensation benefits. As a matter of fact, employees are eligible to receive workers' comp benefits even if the employee's own negligence resulted in the injuries.
Differences in Damages in Workers' Comp Cases and Other Personal Injury Cases
If it seems that the nature of workers' compensation, in which you can be reimbursed at times for your own clumsiness, is too good to be true, it is. This is because, while workers' comp will pay you compensation for your medical bills, any necessary vocational rehabilitation, lost earning capability or permanent impairment, it will not pay for your personal suffering. The cap on workers' comp benefits, therefore, is much lower than the typical personal injury settlement once blame is assigned.
No fee unless we win. Call today for a free no obligation consultation!
When you file a personal injury lawsuit, you may be entitled to compensation for enduring pain and suffering, loss of enjoyment of life (hedonic damages), even damage to clothing or jewelry during the accident. In cases in which you can file for workers' comp, however, you have foregone the right to sue your employer or co-workers for negligence and also the right to collect damages for pain and suffering.
Are Any Workers Legally Permitted to Sue Their Employers?
Yes, there are several categories of employees who are allowed to sue their employers and co-workers when they are injured on the job: (1) Police Officers and Firemen; (2) NYC Sanitation Workers; (3) NYC School Teachers and School Professionals; (4) Crew members of ships or boats; (5) Interstate railroad workers (including Metro North).