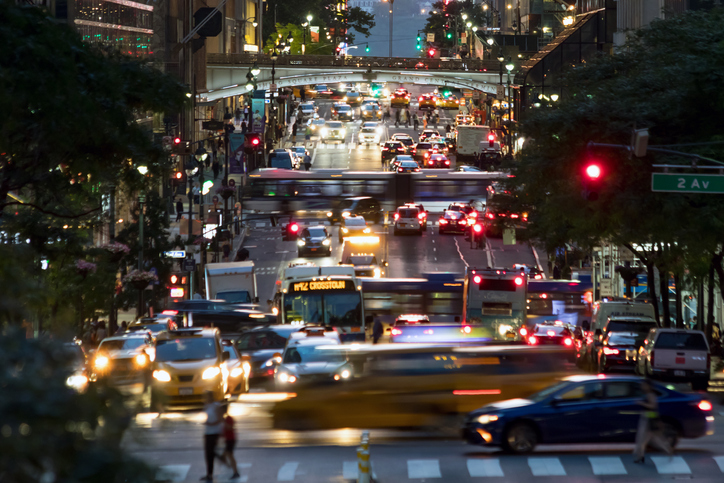 According to the National Highway Traffic Safety Administration, almost 50 percent of traffic accident fatalities for passenger vehicle occupants happen at nighttime. Given the fact that a quarter of all travel occurs during evening hours, the fatality rate for motorists (per mile traveled) is roughly three times greater at night compared to daylight hours.
Nighttime driving is inherently more dangerous, particularly in dense urban areas like New York City where bicyclists and pedestrians can seemingly pop out of nowhere. Driving in Manhattan and the surrounding boroughs has its own set of challenges, but there are few things motorists can do to help reduce the risk of getting in a car accident at night.
Safety tips for night driving in NYC
The majority of visitors to New York City rely on public transportation to get around town, and a large percentage of local residents opt to forego personal vehicles entirely.
If, however, you are driving after sunset in the city, consider the following tips:
Check your headlights – New York City has specific laws regarding use of headlights to combat limited visibility during evening hours. All drivers are required to turn on their headlights 30 minutes after sunset, and if you're driving into the early morning hours, they must remain on until half an hour before sunrise. It's a good idea to make sure your headlights (and brake lights) are in working order, and their angle is properly adjusted so as not to blind oncoming drivers.
Drive defensively – Be extra cautious behind the wheel once the sun has set, as statistics indicate that risks of drunk driving accidents increase four-fold at night. If you suspect another driver is impaired by alcohol or drugs, call 911 and keep your distance.
Avoid distractions – Keep your full attention on the road and distractions at bay. Don't risk your own life and those of others by fiddling with the stereo, texting or eating while driving.
Watch for pedestrians – New York City is filled with pedestrians and bikers, so whether you're at an intersection or a crosswalk, be alert for people and potential jaywalkers.
Reduce your speed and increase distance – Slow down and adjust your speed to take into account limited visibility and/or weather conditions like rain, sleet and snow. Avoid tail gaiting, and increase the distance between your own vehicle and that in front to avoid a rear-end collision. You need roughly 200 feet to safely stop if you are traveling at 40 mph.
Adjust where you look – The headlights from oncoming vehicles can seriously impair your night vision when directly stared at. Try and avert your gaze downward to the right shoulder as a vehicle passes.
Don't drive when fatigued – Studies have shown that drowsy driving can be just as dangerous as drunk driving, and there are more accidents involving fatigued drivers between midnight and sunrise. Get off the road if you find yourself nodding off, and be on high alert for drowsy drivers, who can veer off course and cause a serious accident.
Use high beams correctly – High beams are useful in rural, dark areas and for spotting the reflective eyes of wildlife. However, low beams should be used when you are directly behind another car or within 500 feet of an oncoming vehicle.
Car accident attorneys serving New York City
The law firm of Friedman, Levy, Goldfarb & Green provide effective legal representation and have the experience and resources to help clients secure just compensation against negligent parties. If you were in a car accident in downtown New York and have questions about your rights, we invite you to reach out for a free case evaluation.
Additional Resources:
NHTSA, Passenger Vehicle Occupant Fatalities by Day and Night – A Contrast https://crashstats.nhtsa.dot.gov/Api/Public/ViewPublication/810637
IDriveSafely.org, Night Driving Tips: What You Need to Know https://www.idrivesafely.com/defensive-driving/trending/night-driving-tips-what-you-need-know
GEICO, 12 Safety Tips For Driving At Night https://www.geico.com/living/driving/auto/car-safety-insurance/driving-at-night