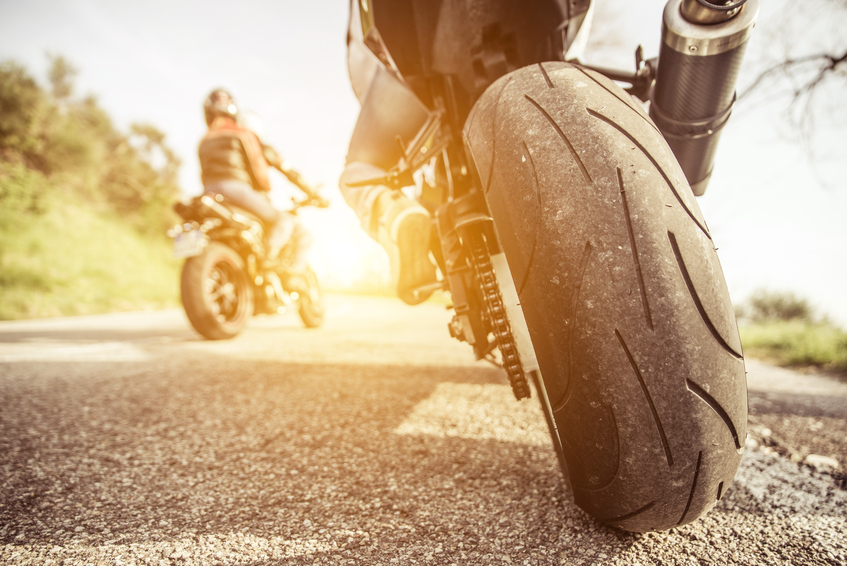 After a long winter and a cool, rainy spring, you may be anxious to get your motorcycle out of storage and onto the road for your first warm weather outing. Prior to your first ride, the motorcycle accident injury attorneys at New York's Friedman, Levy, Goldfarb & Green recommend that you perform a spring safety check on both your ride and its systems. A thorough safety check will help keep you and your bike on the road throughout the entire riding season.
Talk with an experienced personal injury attorney for a free consultation!
Inspect the Bike's Battery and Electrical System
If you do not have a multimeter or you are not familiar with your bike's electrical connections, ask your mechanic to check its battery, electrical connections, and harnesses. A dead battery can strand you far away from your destination. Change your battery if it is more than a few years old, and install a battery tender to give you a self-contained jump if your battery runs down due to a system short or some other electrical fault. Wires and connections that run under seats and through other stress points can become frayed or corroded. Replace any worn wiring and verify that headlamps and turn signals are fully operational.
The Bike's Tires and Brakes are Crucial Control Elements
Worn tires and brakes increase a bike's stopping distance. Our motorcycle accident lawyers have seen multiple bike crashes where a quicker stop could have prevented serious injuries. Replace your bike's tires if they are worn or have uneven tread wear. Check all parts of your braking system, including hand levers, cables, and pads. Take a close look at your wheels. Small nicks and dents in the rims can lead to low tire pressure. Verify that the bike's throttle, clutch, steering, and suspension are fully operational.
Add Fresh Grease and Check the Bike's Fluid Systems
Fuel lines and fittings will degrade over time, even if you drained all the fuel from your bike when you put it away for the winter. Make sure your bike isn't leaking fuel. Add fresh grease to all bushings and bearings to assure top-notch performance. Get a grease gun and use the proper type of grease that works best with your bike's swing arms and suspension pivots. Consider installing an oil cooler if your bike does not already have one to increase the lifespan of its lubricants
Talk with an experienced personal injury attorney for a free consultation!
Take a Good Look at Your Riding Gear
Start with your helmet. New York State requires riders to wear helmets, but the State's laws say nothing about how often those helmets should be replaced. Over time, solar radiation, road dirt, and general age will reduce the protection that a helmet provides. If more than seven years have elapsed since your helmet was manufactured or if you have been using the same helmet for more than five years, get a new one. Have it professionally fitted to ensure your comfort during longer rides. Replace any riding jackets and pants that are worn or that no longer fit properly. Clothing that limits your mobility or flexibility on a bike can be a safety hindrance. Focus on your comfort over style or your image.
Make Sure That Your Bike Is Still the Right Bike for You
If your bike puts you into a forward or aggressive riding position, make sure you are still comfortable in that position and that you will not experience back pain or any other fatigue on longer rides. Even if you are comfortable, pay attention to other elements that might cause fatigue, particularly your grips. If your hands get tired or your seat is too stiff, replace them with more comfortable upgrades. Verify that your rear-view mirrors reflect the full scope of traffic behind you. More than one rider has been rear ended on a motorcycle where the rider's mirrors were improperly positioned or did not give the rider enough information about rapidly approaching vehicles.
Do an Honest Assessment of Your Riding Skills
The rider is always the most important safety system on every bike. All riders can benefit from regular coaching and safety instructions. Some instructors, for example, are now cautioning riders not to rely on loud pipes and bright clothing to make them visible to motorists, but are instead training bikers in new defensive riding styles. Bikers who take their own safety seriously can enjoy thousands of miles on their rides by focusing on their own skills and riding abilities first.
Call Friedman Levy When You Suffer Injuries in a Motorcycle Accident in New York
Regardless of your riding and safety skills, when you are riding you will always face the risks of encounters with distracted and negligent motorists. If you have suffered losses and injuries in motorcycle crash, call a NY motorcycle accident lawyer at New York's Friedman Levy Goldfarb & Green. We will fight to get you the maximum damages that you deserve and need, and we will help to get you back on your bike as soon as you recover from your injuries.