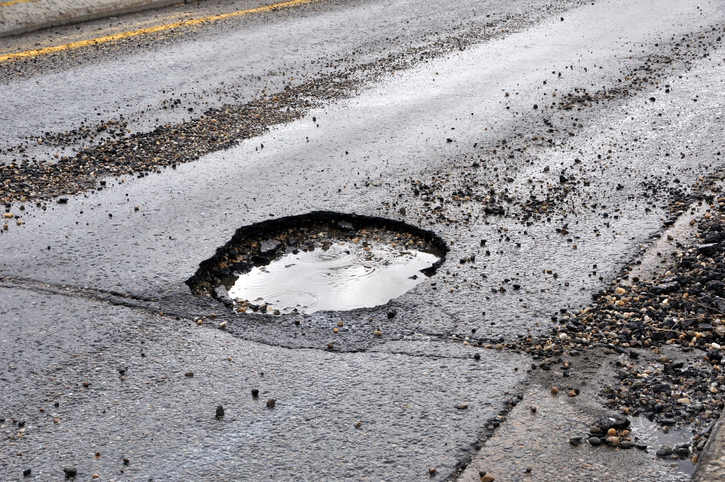 Those who drive around New York City regularly will not be surprised that potholes cause significant property damage and injuries. In fact, from 2009 to 2015, the city paid drivers $1.5 million in reimbursement for property damage and personal injuries due to potholes. Unfortunately, many more cases of damage and injury go unreimbursed. Here are some things you need to know to get compensation for damage from a pothole.
State and city liability for pothole damage
Whoever owns the road is responsible for keeping it properly maintained. When someone is injured or suffers damage because of a breach of this duty, that owning entity may be legally liable. However, the municipality or state must have had prior notice of the pothole at issue and failed to fix it. For example, for New York City to be responsible for your damages, its Department of Transportation must have written notice of the pothole at least 15 days before your accident.
If the pothole accident occurs on a road for which the state is responsible, and the pothole was weather-related, there is a good chance that the state will not be liable. According to Highway Law §58, the state cannot be held liable for damages suffered due to defects in state highways unless they occur between May 1 and November 15. This effectively eliminates liability for potholes due to winter freeze/thaw cycles.
How to recover compensation for a pothole accident
If you have a strong case for liability and clear evidence of damages, you may file a claim with the responsible entity. However, claims need to be filed in the right place, at the right time, and they are subject to caps.
There is a strict 90-day deadline to file a claim for loss. For a municipal claim, the notice of claim must be delivered to the Comptroller's Office by one of the accepted methods – via the eClaim system, by personal delivery, or by registered or certified mail. For state claims, requests for reimbursement of property damage of up to $5,000 are filed with the Department of Transportation as a small claim. Claims above $5,000 need to be filed as an action in the Court of Claims. It is strongly advised to have an attorney help you do this.
The fight for compensation through government entities can be an uphill battle. Speak with a car accident lawyer about the possibility of filing a no fault insurance claim if your pothole accident falls outside the scope of city or state liability. Regardless of fault, the policy should provide payment for related economic losses. Be aware that the time to file a claim is limited to only 30 days after the accident.
Get help with your pothole accident claim
Whether the accident occurs in NYC or elsewhere in New York State, a pothole accident claim will be accompanied by strict procedures and deadlines. Take the hassle out of the process by speaking with a municipality lawyer who understands not only the steps involved in a successful claim, but also how to prove liability. The Manhattan pothole accident lawyers at Friedman, Levy, Goldfarb, Green & Bagley, P.C. provide skilled and aggressive representation for those who have suffered loss because of someone else's negligence. Call today to schedule a free and confidential case review.M