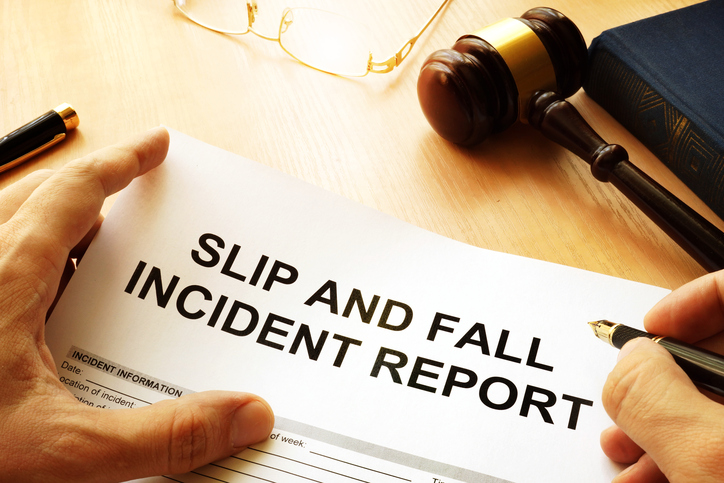 New York has strict laws governing premises liability actions. These laws protect people who are injured because of dangerous conditions on another person's property – be it an apartment building, a restaurant, a shopping mall or other locale. If you slip and fall because of foreseeable hazards while legally on someone else's premises, you may be wondering how much your injury claim is worth. Falling on hard surfaces, or down a flight of stairs can result in a wide range of serious injuries, from broken ankles and torn ligaments to traumatic brain injury.
How Do Insurance Companies Calculate a Slip and Fall Settlement?
The damages you are entitled to recover in your slip and fall case will likely be paid by the companies that insure the property where your accident happened. Those insurance companies have huge databases with information from every slip and fall case they have covered. They use that to determine the economic and non-economic damages they make with their settlement offers.
Your economic damages are objective amounts. They are reflected in the medical bills you receive for treatment of your injuries, your pay stubs that show your lost wages, and other receipts and invoices you retain for expenses associated with your accident. However, if this objective data reflects expenses significantly greater than comparable cases, you can expect the insurer to push back and offer a lower settlement. To collect the full amount of your economic damages, you need the services of a successful slip and fall accident attorney who has experience negotiating with insurers.
Insurers also use their database to estimate your non-economic damages for injuries such as your pain and suffering. They are more challenging to quantify. So even if you present a strong case that shows your own unique circumstances, an insurer may default to treating you as a statistic that fits its pre-established mold. An accident victim who accepts an insurer's early settlement offer for non-economic damages will inevitably forfeit a substantially larger award that a lawyer could negotiate on the victim's behalf. Your lawyer will use all available evidence to depict you as an individual and to show how your slip and fall injuries have affected all areas of your life. They will also demonstrate in clear and convincing terms the adversity caused by your injuries. If the insurer refuses to settle your slip and fall case for an amount that gives you fair and just compensation, your lawyer will then present your case to a more sympathetic jury.
How to assign a value to a slip and fall case
An experienced NYC personal injury lawyer can usually provide a ball-park estimate on the value of your case, based on the type of injuries suffered, medical bills and financial losses sustained.
The New York law firm of Friedman, Levy, Goldfarb & Green works tirelessly to fight for full economic and non-economic damages owed to our clients. It's important to note that there is no concrete formula for calculating an exact dollar amount in premises liability lawsuits. Each slip and fall case is unique and it's up to your legal team to accurately assess the value on the total sum of your past, present and future losses.
Generally speaking "hard injuries," such as broken bones, herniated discs, spinal cord injuries and other trauma that is easy to prove through diagnostic tests generally merit more compensation than soft tissue injuries like sprained muscles or tendons.
The following are common factors that impact the value of a slip and fall claim.
Expenses for your medical treatment
The total sum of your medical bills, including urgent care, surgeries, treatments, X-rays, diagnostic testing, doctor's visits, mobility aides, prescription medications and rehabilitation lay the foundation for your injury damages. Plaintiffs can even demand reimbursement for the transportation costs to and from medical appointments for the duration of their recovery. It's critical to keep good records of health care appointments and save receipts for out of pocket expenses paid.
Loss of income and future earning capacity
If your slip and fall injuries prevented you from working or earning wages, you are eligible to recover the income you have lost during this time period. It doesn't matter if you are a salaried employee, work for tips or are self-employed, a qualified attorney can ensure you properly document your loss of income. If you are unable to resume work for an extended time due to your injuries, the property owner may also be asked to pay out a lump sum for reduced earning capacity, or foot the bill for vocational training in another field of work.
Non-economic losses like pain and suffering
Getting seriously hurt can have major ramifications on the quality of your life, causing not only physical pain but emotional anguish and suffering. While it can be difficult to place a dollar figure on anxiety, depression, or other psychological impacts of a slip and fall accident, New York State recognizes the importance of compensating victims for these less tangible impacts.
Incidental losses related to the accident
A slip and fall claim for damages should also include expenses that were incurred as a direct result of the accident. For example, you may need to hire a part-time nanny or housekeeper to help out and do chores that you are physically unable to perform because of your injuries.  Make sure to save receipts and verification of all incidental expenses related to your accident.
Long-term or permanent disability
Your injury case will be worth a lot more if you sustained severe injuries that take years to heal or resulted in permanent disability.
How much will a slip and fall lawyer cost?
No matter how valid your claim and incontestable the liability, insurance companies are prepared to mount an aggressive defense. For this very reason, it's imperative to choose your legal representation carefully. Your NYC slip and fall lawyer should have ample experience handling premises liability claims in New York City, and the resources to gather solid evidence, retain expert witnesses, and develop the shrewdest strategies for maximizing your recovery. Look for a law firm that pays upfront costs. Attorneys who operate on a contingency basis take a small percentage of any settlement or judgement achieved.
Call Friedman, Levy, Goldfarb & Green for a free consultation about your slip and fall injury. Speak to a personal injury lawyer who has the experience and skills to fight for your rights.